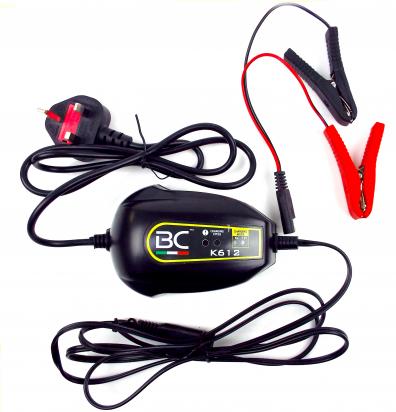 Part Description
Daelim Roadwin 125 04-09 Battery Charger BC K612 - 6 And 12 Volt
The BC K612 is an all-in-one battery charger, maintainer and reconditioner. It's suitable for Traditional/Wet, Gel, MF, VRLA, and AGM type 6/12V lead-acid batteries.
Simply set to the required voltage and a fully-automatic charging algorithm will execute:
Initialisation
Recovery
Soft Charge
Bulk Charge
Desulfation / Absorption
Battery Analysis - End Cycle Test
Maintenance
Equalisation
It can be left connected for indefinite periods of time, it does not produce sparks, and it's protected against short circuit, reverse polarity, overcharging and overheating.
Each charger comes with full instructions, UK plug, crocodile clips, and a three-year warranty.
The K612 is a Battery Charger, Maintainer and Reconditioner for 6 volt and 12 volt batteries. (Acid, MF, Gel, AGM And VRLA Types)
Fully automated 8 cycle charging algorithm:
Initialisation
Recovery
Soft Charge
Bulk Charge
Desulfation And Absorption
Battery Analysis - End Cycle Test
Maintenance
Equalisation
Can be left connected to the bike for an indefinite period of time
The K612 does not produce sparks and it is protected against short circuit, reverse polarity, overcharging and overheating.
Supplied with crocodile clamps
More acessories available

Delivery and Returns
We want you to be happy with your purchase. If you're not, just return the products to our warehouse. Unless faulty, we'd like this to be within 30 days of purchase. Exceptions apply to certain products.
Battery Types
Motorcycle Batteries come in four basic types: Conventional, Yumicron, User Activated Maintenance Free and Factory Activated Maintenance Free. Each requires a slightly different commissioning procedure.
Battery Identification
Conventional and Yumicron Batteries can be identified easiest by the removable plastic plugs they have at the top of each cell, 6 plugs for a 12V and 3 for a 6V battery. Conventional batteries generally have part numbers starting with either 6N or 12N depending on voltage. The Yumicron batteries generally have part numbers starting with YB or CB depending on manufacturer, and are only available as 12 Volt units. These types of battery are more common on older machines and usually have an overflow pipe outlet on one side.
User Activated Maintenance Free Batteries or more commonly just Maintenance Free are usually supplied with a 6 cell acid package and a single sealing cap strip which will seal all 6 cells of the battery simultaneously. This type of battery does not have an overflow pipe, the casing is normally opaque and the part numbers generally start with YTX, GTX, ETX or CTX depending on the manufacturer.
Factory Activated Maintenance Free Batteries or more commonly Gel Batteries are generally opaque and completely sealed. The part numbers of Gel Batteries are a little more varied starting with CT, CTZ, YT, YTZ amongst others. Note: Gel type batteries require a charging voltage of at least 14.0 volts as opposed to 13.8 volts for liquid electrolyte types, so if upgrading check that the charging system is suitable.
General Care
Motorcycle batteries like being used. They do not like being neglected, unused or uncharged.
If left for any length of time without being charged, even if they are not connected, all lead-acid batteries will go through a natural process of self-discharging, motorcycle batteries because of their composition tend to be more prone to this than other lead acid batteries. If the battery has reached the stage of being deeply discharged it is often impossible to recover, even if the battery itself is relatively new. If the battery is connected to the bike and the bike has an alarm or immobiliser fitted the time it takes a battery to reach a deeply discharged state can be short, often a matter of days.
Regular charging is the only way to ensure a long life from your battery and work against the natural process of self-discharge. Most intelligent motorcycle battery chargers come with leads which can be permanently fixed to your battery with the battery connector neatly hidden away in the bike. Charging is then a easy matter of plugging the connector in to the charger.
6V and 12V Lead Acid Battery Chargers
Motorcycle and Scooter Battery Chargers
A lead acid battery will naturally self-discharge at a rate of 0.2-1.0% per day - and that's before the constant drain of an alarm, immobiliser or other accessory.
For the longest effective working life, a battery should be kept at full or near full charge capacity. This can be obtained with the use of an intelligent charger.
Automatic (Intelligent or 'Trickle') Chargers
A trickle charger (or smart charger) is so called because once the battery is detected as fully charged, it will reduce the power (to a 'trickle' ) to recover a battery's self-discharge without allowing it to overcharge.
How Motorcycle Chargers Work
Conventional lead-acid batteries are constructed of a number of lead plates submerged in the electrolyte. Motorcycle and scooter batteries are capable of a large power-to-weight ratio compared to other types of battery, by utilizing a large number of thin lead plates, maximising the surface area for electrolysis. The downside is that these plates are fragile and easily damaged by deep discharge.

WORLD'S END MOTORCYCLES DISTRIBUTION
Supplying quality after market motorcycle parts direct to the trade