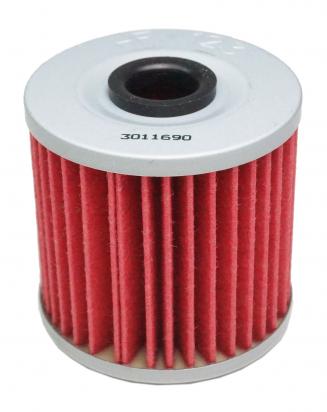 Part Description
Kawasaki KLT 250 C1-C3 Prairie 83-85 Oil Filter HiFlo

HiFlo Filtro Oil Filters
The only TUV approved aftermarket filter
HiFlo is the best selling aftermarket oil filter, and it's not difficult to see why.
Premium Materials
Hi Flo filters are built with the finest quality materials for the best reliability and filtration; the composite filtering material is compatible with all lubricants (including synthetic), as is the heat treated adhesive. Hi Flo use metal end caps - not paper like some other aftermarket filters - and the folded filter material is kept in place with a stainless steel mesh.
All manufacturing and quality control checks are carried out within HiFlo's own factory. Filters go through 16 quality control checks using the latest in pressure testing machinery, and all HiFlo filters have a "burst factor" of at least 4 - they are tested to pressures 4 times higher than ordinary use in a motorcycle, scooter or ATV engine.
Tested and certified
HiFlo is the world's first TUV approved oil filter - and they meet and exceed all OEM specification.
Related Products
Changing your oil and oil filter can be a messy business. Make sure you've got all the tools and oil required before you start.
Delivery and Returns
We want you to be happy with your purchase. If you're not, just return the products to our warehouse. Unless faulty, we'd like this to be within 30 days of purchase. Exceptions apply to certain products.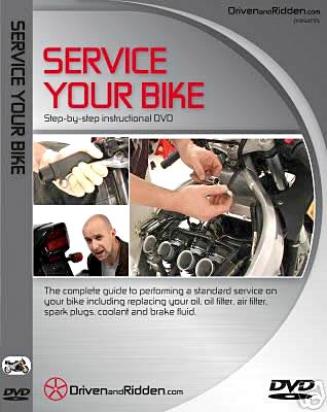 SERVICE YOUR BIKE
The complete guide to performing a standard service on your bike, including: replacing your oil filter and oil, air filter, spark plugs, coolant and brake fluid. Professionally filmed in our studio, Nick Hine shows you exactly how to do each job - with clear, close-up shots, tips, advice and techniques that enable you to do a professional finish - even if you have no experience.
All DVDs start and end with the bike on the ground, They don't miss out any steps and always use standard home garage tools where possible and show you how to make your own special tools where necessary. We explain why you need to do each task and try to give you a good understanding of the principles behind each job.
THIS COMPREHENSIVE 40 MINUTE DVD SHOWS YOU HOW TO
Drain your oil and remove your filter
Choose the correct oil for your bike
Fit the new filter, refilll the oil and accurately check the level
Remove your fuel tank and replace your air filter
Remove and check your old spark plugs
Gap and fit your new spark plugs
Refit the fuel tank and pipes
Drain, flush, mix and refill your coolant
Replace your brake fluid
Know the difference between DOT 3, 4, 5 and 5.1!
Bleed your brakes correctly to ensure a good firm lever
WORLD'S END MOTORCYCLES DISTRIBUTION
Supplying quality after market motorcycle parts direct to the trade