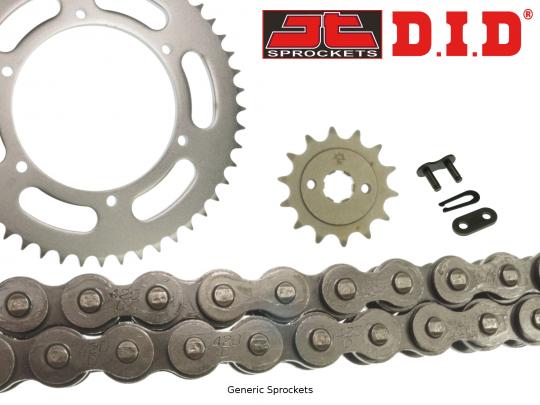 Part Description
Rieju MRX 50 Pro/Top 04 DID Standard Chain and JT Sprocket Kit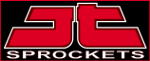 Chain and Sprocket Kit
Contains:
DID 420 S (Standard) Drive Chain - Standard Length
JT Front Steel Sprocket - Standard Tooth Size
JT Rear Steel Sprocket - Standard Tooth Size
One split link is included with the drive chain
DID 420 Standard Drive Chain
Specification
| Pin Length | Roller Diameter | Plate Thickness | Weight | Tensile Strength |
| --- | --- | --- | --- | --- |
| 14.75mm | 7.77mm | 1.5mm | 0.7kg per 100 links | 17.70KN |
Although DID S Standard chain represents DID's simplest grade of chain, it still features the finely-tuned engineering and high-quality control that DID is so well known for, using the latest in Japanese chain technology.
The bushing on a chain is important for impact and wear resistance, and helps to absorb the shock from the rollers rather than directly transmitting it to the pins. By using rigid, seamless, solid bushes, instead of curled bushes that other manufacturers use, the wear-life of a DID Standard chain can be 1.2 to 4 times the life of a chain using curled bushings.
All DID chains are made in Japan.
If the original equipment chain was an O-Ring or X-Ring chain, it must not be replaced with a standard chain. It must be replaced with a sealed chain of equal or greater strength.
JT Sprockets
JT is the best selling aftermarket sprocket in the world. Using the finest raw materials and cutting-edge technology in production, CNC computer design and precision machining, JT ensure maximum durability and performance.
JT front sprockets are made with SCM420 chromoly steel alloy, while the rear sprocket is manufactured with ultra-durable high-carbon C49 steel.
Related Products
Delivery and Returns
We want you to be happy with your purchase. If you're not, just return the products to our warehouse. Unless faulty, we'd like this to be within 30 days of purchase. Exceptions apply to certain products.
Nearly all motorcycles have a drive system comprising of two sprockets: a front sprocket (also known as the counter-shaft or drive sprocket) and a rear sprocket (also known as the driven sprocket).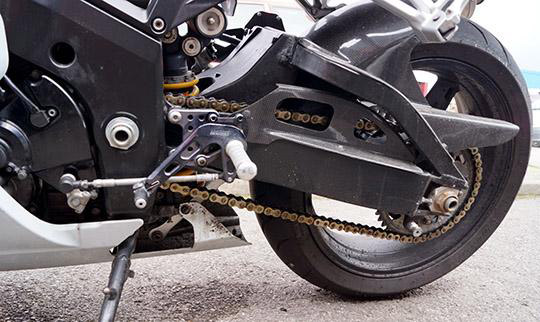 The front sprocket is attached to the engines transmission output shaft with the rear sprocket mounted to the rear wheel. Both sprockets have teeth which slot into the gaps in the motorcycle's drive chain.

The sprockets work in tandem with their teeth engaging between the drive chain links. The front sprocket rotates at the same time as the engine's transmission output shaft, and the teeth pull the drive chain, in turn rotating the driven sprocket as it traverses. This system transfers the power from the engine to the rear wheel, moving the motorcycle forward.
This pulling force is transmitted via the side plates of the chain through the chain's pins to the rollers. The distance between the centres of the pins is equal to the distance between the centres of the sprocket teeth. This means that the force pulling the chain is equally distributed among the rollers.
WORLD'S END MOTORCYCLES DISTRIBUTION
Supplying quality after market motorcycle parts direct to the trade