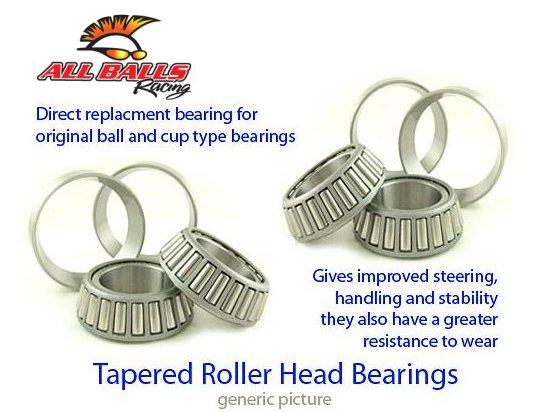 Part Description
Suzuki GT 250 K 73 Tapered Headrace Top Bearing - Upgrade see notes
48x25x15mm Please note on some Suzuki Pre 79 models you may need to modify the steering stem
On models that originally took cup and cone steering head bearings, upgrading to tapered headrace bearings is a popular and cost-effective choice. The ball bearings used in the original cup and cone have only two small points of contact on each ball bearing, which makes them more prone to failure than spreading the contact across the entire edge of a tapered bearing. Tapered bearings therefore last longer, and give better stability, than cup and cone bearings.
For some early (pre 1979) Suzuki Models:
When first upgrading from cup and cone to tapered bearings, on some models a modification may be required on the steering stem; please see below:
Stock Steering Stem
Modified Steering Stem
In order to install tapered bearings on early Suzuki models it may be neccessary to modify the steering stem as per the above sketches. When the stem is modified verify the bearing will slip into place.
A note from one of our customers (owner of a Suzuki GT 380):
"If you want to add a note to say that the stem is mild steel and is easy to reduce, I used a dremel grinder and then polished with fine emery paper."
Delivery and Returns
We want you to be happy with your purchase. If you're not, just return the products to our warehouse. Unless faulty, we'd like this to be within 30 days of purchase. Exceptions apply to certain products.
Sealed Bearing 2RS - DDU
All the wheel bearing we supply are 2RS - DDU.
Double sealed and ready lubricated with premium grease for added protection against dirt and water ingress and are made of high strength AISI 52100 chrome steel components for the rolling elements and the inner and outer rings; to ABEC 1 dimensional tolerances and C3 radial clearance tolerance.
The bearings also undergo electronic noise and vibration testing according to ANSI/AFBMA Standard 13-1987.
Care And Maintenance
Although bearings are subjected to large amounts of stress and are continually being used to fulfil various duties, they are precision made and typically last a long time (bearing failure is often due to improper installation and fitting). However high-mileage bikes and dirt bikes, which are exposed to a lot of mud and water, can become vulnerable and require attention sooner than expected.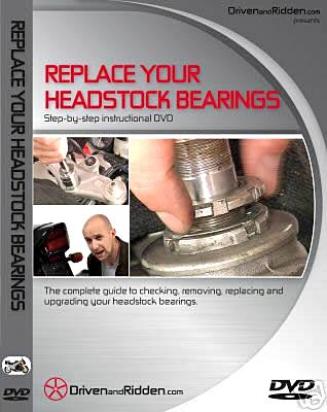 REPLACE YOUR HEADSTOCK BEARINGS
DONT JUST READ ABOUT HOW TO DO IT,
WATCH IT!!
The complete guide to checking, removing, replacing and upgrading your headstock bearings. Professionally filmed in our studio, Nick Hine shows you exactly how to do each job - with clear, close-up shots, tips, advice and techniques that enable you to do a professional finish - even if you have no experience.
All DVDs start and end with the bike on the ground, They don't miss out any steps and always use standard home garage tools where possible and show you how to make your own special tools where necessary. We explain why you need to do each task and try to give you a good understanding of the principles behind each job.
THIS COMPREHENSIVE 36 MINUTE DVD SHOWS YOU HOW TO
Accurately check your headstock bearings for wear and play
Safely jack up and support your bike
Remove the wheel, fairings, forks and of course headstock
Remove the old bearings and races from the bike and the headstock
Make your own special tools
Fit the new bearings and races
Grease, install and adjust the headstock
Torque up your bolts in the correct order
Rebuild your bike

... Read more » DVD Guide - How To Replace Headrace Bearings
WORLD'S END MOTORCYCLES DISTRIBUTION
Supplying quality after market motorcycle parts direct to the trade