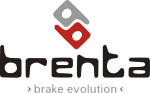 Brenta - Motorcycle and Scooter Brake Pads
To ride with complete confidence, you must be completely sure in the stopping power of your brakes.
Brenta brake pads prove that there's no need to pay through the nose for that confidence - the full Brenta range has been tested and approved by TUV with KBA certification.

The Italian Brake Pad Manufacturer
Brenta brake pads are manufactured by Italian company Frenotecnica - specialists in friction material for motorcycles and scooters. Beginning in 1982 as a small family run workshop, the great workmanship and consistently high quality have led to growth and an excellent international reputation. Brenta brake pads are manufactured by skilled engineers using the latest hi-tech equipment, and by ensuring only the best basic materials are used for both their sintered and organic pads, the finished product is always up to Frenotecnica's high standards.
Motorcycle Brake Pad Types
The Brenta range includes organic, sintered, and sintered off-road brake pads.
Organic brake pads are made of fibres and organic materials, bonded with resin. These are suitable for most road conditions, bed-in quickly and tend to be quieter than sintered.
Sintered brake pads use a high percentage of metallic compounds alongside fibres and resins. These are a more effective compound for heavy use and higher temperatures. The performance of sintered brake pads is less affected by wet conditions than that of organic pads, and as they are made of a harder compound they last longer too. Sintered brake pads transfer heat away from the brakes leading to less 'brake fade' compared to organic brake pads when under heavy braking.

Brenta's Sintered off-road brake pads are suitable for the majority of motocross, enduro and off-road applications. They produce a high-friction coefficient, which provides better braking power and extended life in the highly demanding mixed wet, dry and, of course, dirty conditions that dirt bike braking systems must work in
Organic or sintered brake material, all Brenta brakes are made in Frenotecnica's factory in Italy, ensuring consistent quality, regardless of the motorcycle or scooter make or model.
WORLD'S END MOTORCYCLES DISTRIBUTION
Supplying quality after market motorcycle parts direct to the trade