DVD Guide - How To Pass UK M.O.T
DVD GUIDE - HOW TO PASS UK M.O.T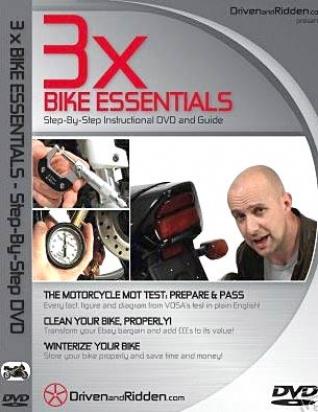 3x BIKE ESSENTIALS DVD
Step-by-step instructional DVD and guide
THE MOTORCYCLE MOT TEST: PREPARE & PASS
36 minute step-by-step instructional DVD video and 54 page DVD guide
Did you know that over 1 MILLION bikes get MOT 'd every year and a STAGGERING 168,000 of them fail the test! Most of those could be avoided using the preparation techniques shown in this DVD and guide. Every fact, figure and diagram from VOSA 's test is included and it 's the only guide of its kind available in the UK.
CLEAN YOUR BIKE, PROPERLY! - DVD
In this section we show you how to ''TRANSFORM YOUR EBAY BARGAIN'' from a ''10-year-old-filth-magnet'' to a ''sparkling modern classic''. In this 22 minute ''cleaning master-class'' we take the world's dirtiest ''FireBlade'' and strip away 10 years of accumulated grime and add £s on to its value. Watch out for the gratuitous ''WD40 dissolving dirt shots'', an obsessive compulsive's dream!!!
''WINTERIZE'' YOUR BIKE - DVD
This 6-minute section shows you the steps you need to take to prepare your bike for long-term storage. Simple enough of course but so many of us don't bother or miss steps that cost us money and waste precious time when the sun does start shining again. This 64 minute DVD and 54 page DVD guide apply to the VOSA MOT test carried out in the United Kingdom only. All DVDs are covered under strict copyright law and are not for distribution or copying. Please be aware that each DVD is in PAL 4:3 format on a Region 0 (region free) DVD.
All the sections in the MOT test are included in complete detail:
MOT BASICS
Documentation needed
Reasons for refusal
Preferred test order
STEERING AND SUSPENSION
Front Forks
Rear Suspension
Headstock Bearings
Steering Control
WHEELS AND TYRES
Tyres
Wheel Bearings and Axles
Wheel Rims
Wheel Alignment
BRAKES
Brakes General
Brake Disks
Brake Pads
Brake Calipers and Hoses
Brake Master Cylinders
Brake Drums
Brake Efficiency Testing Methods
LIGHTING
Lighting General
Headlight Aim General
Making Your Own Headlight Aiming Screen
Headlight Aim on Dipped Beam
Headlight Aim on Full Beam
Brake Lights
Rear Reflectors
Indicators and Indicator Warning Lights
Daytime MOT's
Twin Headlights
Horn
STRUCTURE
Condition of Structure
Assesing Corrosion
Transmission, Seating and Footrests
Number Plates and VINs
FUEL AND EXHAUST SYSTEM
SIDECARS
(Covered in the 54 page DVD guide)
Steering and suspension
Wheel and Tyre
Brakes
Lighting
Structure
Related Products
WORLD'S END MOTORCYCLES DISTRIBUTION
Supplying quality after market motorcycle parts direct to the trade