DVD Guide - How To Replace Disks and Pads
DVD GUIDE - HOW TO REPLACE DISKS AND PADS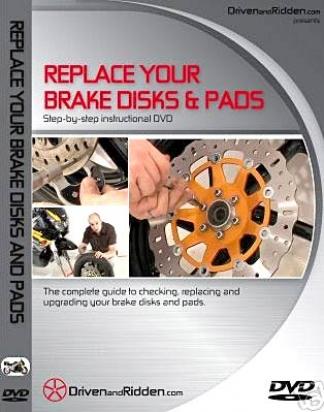 REPLACE YOUR DISKS AND PADS
DONT JUST READ ABOUT HOW TO DO IT,
WATCH IT!
The complete guide to checking, replacing and upgrading your brake disks and pads. Professionally filmed in our studio, Nick Hine shows you exactly how to do each job - with clear, close-up shots, tips, advice and techniques that enable you to get a professional finish - even if you have no experience.
All DVDs start and end with the bike on the ground, They don't miss out any steps and always use standard home garage tools where possible and show you how to make your own special tools where necessary. We explain why you need to do each task and try to give you a good understanding of the principles behind each job.
THIS COMPREHENSIVE 41 MINUTE DVD SHOWS YOU HOW TO
Accurately check your disks and pads for wear
Safely jack and support your bike
Choose the correct new brake components
Remove the wheels, calipers, disks and pads correctly
Fit new disks correctly
Clean and un-seize stuck calipers
Maintain the pins on sliding calipers
Fit new pads
Rebuild your bike
Bed your brakes in safely
Related Products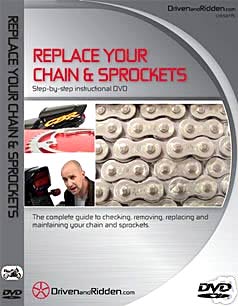 REPLACE YOUR CHAIN & SPROCKETS
WORLD'S END MOTORCYCLES DISTRIBUTION
Supplying quality after market motorcycle parts direct to the trade