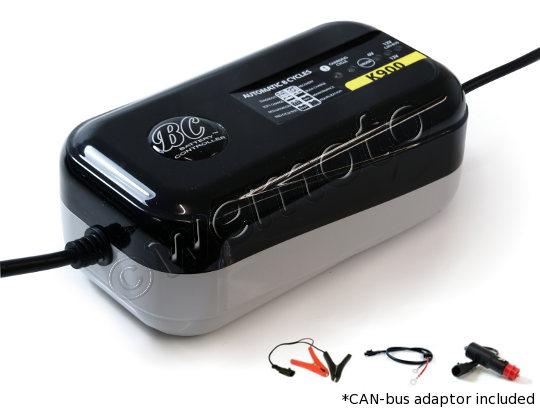 Part Description
12 v Battery Charger K900 Series - EU Plug
Euro Plug.
BC K900 is the ultimate and most innovative battery charger, maintainer and reconditioner on the market, for all 6/12V batteries (traditional with liquid electrolyte and removable caps, MF, GEL, AGM, VRLA)
It has a specific program to recharge batteries directly, through the 12V sockets installed on vehicles with a CAN-Bus system (like BMW motorcycles).
BC K900 ensures the best battery performance and a longer battery life, thanks to a fully automatic 8-cycles charging algorithm, which makes it ideal for battery analysis, recovery (starting from 1.25 Volt) and reconditioning,recharging, desulfation and long term maintenance:
the device can be left permanently connected to the battery for an indefinite time, as long as the vehicle is not in use.
With BC K900, you can choose between three different programs: for 6 Volt batteries, for 12 Volt batteries and for the direct charging through 12 Volt sockets on CAN-Bus equipped motorcycles.
Selecting the program desired is easy, just press a button. There are 3 LEDs, one for each program, which always indicate the charging mode currently active, which is stored in the memory for later use.
Recharging and maintaining a battery installed on a 12V-CAN-Bus-System equipped motorbike has never been so easy: the revolutionary BC KEY-LESS direct connection system allows you to connect the charger directly to 12V DIN 4165 cigarette sockets (installed on BMW motorcycles), without having to turn the key or turn on the instrument panel.
BC K900 delivers a maximum current of 0.9 Amps and is suitable for all 6/12 Volt batteries
from 1.2 to 45 Ah (up to 100 Ah for maintenance).
A couple of LEDs indicate the charging cycle executed, as well as any functioning error in real time.
BC K900 does not produce sparks and it is protected against short circuit,reverse polarity, overcharging and overheating.
The package includes a waterproof battery cable with eyelets (code STD2V),
which can be left permanently installed on the vehicle, and a battery cable with insulated clamps (code 30AMPPZ).
A universal 12/18 mm adapter (code ACC612V - optional) is available to recharge the battery from the cigarette lighter.
The warranty is extended to 3 years.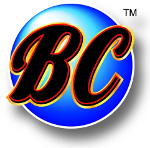 BC K900 Automatic Battery Charger
The BC K900 is the ideal solution for long term recharge, maintenance and recovery of all 6V and 12V batteries, including the 12V CAN-BUS system utilised by many BMW, Ducati, KTM and Triumph models.
In the box:

K900 charger

Battery output cable

12/18mm Can-bus adaptor

Insulated Clamps

Waterproof eyelet connection cable
What's included in the BC K900 package:
The K900 battery charger with wall mounting bracket, 1.2m mains cable and standard EU plug, and battery output cable
Waterproof battery cable with eyelets, which can be left permenently attached to the battery terminals for convenience
Battery cable with clamps
Universal 12/18mm adaptor for CAN-bus charging and cigarette lighters.
Detailed English instructions
Three year manufacturer's warranty
Replacement adaptors are also available separately as spares.
Keeping your battery in top condition:
Keeping the battery well maintained is key to battery performance and working life. With the K900 that couldn't be easier: once the K900 is connected to the mains power outlet, select the mode (6V, 12V or 12V CAN-BUS) then connect the charger to the the clamps, eyelet cable or can-bus adaptor, and the onboard microprocessor will begin the fully automatic 8-cycles charge.
LEDs indicate the current mode selected, which charging cycle is currently active, and if there are any errors, while the included English instructions are clear and detailed.
The powerful K900 charger can not only keep your battery in tip-top condition - it is also capable of recovering deeply discharged batteries from as low as 1.5V.
Fully Automatic Charging Cycle:
| | |
| --- | --- |
| Initialization | Checks if one or more cells are shorted to verify if the battery is in a proper condition to be recharged/recovered. |
| Recovery | If the battery is deep discharged (voltage starting from 1.5V) the device tries to recover it, taking it back to a higher voltage. |
| Soft Charge | Provides a light pulsing current to the battery to overcome significant undercharge. |
| Bulk Charge | Provides full current to the battery, recovring 85-90% of the battery capacity. |
| Desulfation/Absorbtion | Provides a 'controlled overcharge' to recover the remaining 10-15% of battery capacity, through the desulfation/recovery of the lead acid cells (for low to medium sulfation). |
| Battery Analysis - End Cycle Test | Stops providing current to the battery for a short time, to verify that the battery is able to retain charge. This is periodically repeated during maintenance. |
| Maintenance | Keeps the battery in the best charge conditions for long periods (even months) while the vehicle is unused, without allowing overcharge, overheat, water or electrolyte. |
| Equalization | Every 30 days during long term maintenance, the device executes an equalization charge in order the balance the battery lead-acid cells, avoiding electrolyte stratification within the cells. |
Protection from overcharging:
Active guard mechanisms make it easy to install and use the K900, even for users without experience;
Protection from short circuit and no sparks.
Protection from battery polarity inversion
Protection from battery overcharge or overheat
No need to disconnect the battery from the vehicle.
Very little gas development during the charge, so no need to remove the battery plugs.
Connect and Forget: It is safe to leave the BC K900 charger connected to the battery for months at a time, such as over the winter.
Technical Information
Model
K900 6V/12V
Input Voltage
220÷240V AC, 50-60Hz
Charge Voltage
6.9V / 7.2V - nominal 6V
13.8V / 14.4V - nominal 12V
Charge Current
0.9A max
Charging Algorithm
Automatic, 8 cycles
Battery Types
6 Volt Lead-Acid
12 Volt Lead-Acid
Conventional, Maintenance free, Gel, AGM, VRLA
Battery Capacity
From 1.2Ah to 45Ah (Charge)
Up to 100Ah (Maintenance)
Dimensions (mm)
160x85x60
Operating Temparature
from -20 degrees celsius to +50 degrees celsius
All BC chargers are designed, manufactured and tested in Italy to conform to EU regulations on safety and electro-magnetic compatability.
Warnings:
Please read and follow all safety instructions included in the box before using the battery charger
Please select the charging mode before connecting the charger to the battery. Attempting to charge a 6V battery in 12V mode could cause irreparable damage to the battery.
Delivery and Returns
We want you to be happy with your purchase. If you're not, just return the products to our warehouse. Unless faulty, we'd like this to be within 30 days of purchase. Exceptions apply to certain products.
WORLD'S END MOTORCYCLES DISTRIBUTION
Supplying quality after market motorcycle parts direct to the trade