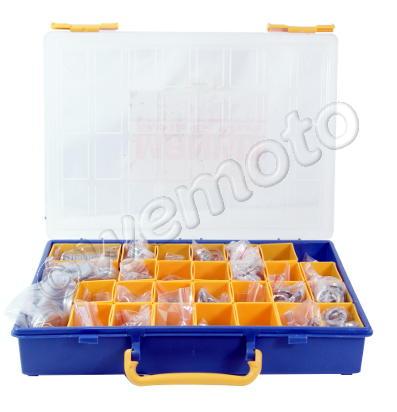 Part Description
Parts Tray - Washer Spring, Plain, Penny and Crinkle Kit 320pc Stainless Steel
There are 320 pieces per Kit.
Contents:
10 of Spring 4mm x 6.5mm
10 of Spring 5mm x 8mm
10 of Spring 6mm x 9.5mm
10 of Spring 8mm x 12.5mm
10 of Spring 10mm x 15.5mm
10 of Spring 12mm x 18.5mm
10 of Spring 14mm x 22mm
10 of Spring 16mm x 24mm
10 of Plain 4mm x 8.5mm
10 of Plain 5mm x 10mm
10 of Plain 6mm x 12mm
10 of Plain 8mm x 15.5mm
10 of Plain 10mm x 20mm
10 of Plain 13mm x 23.5mm
10 of Plain 15mm x 27.5mm
10 of Plain 17mm x 29.5mm
10 of Penny 4mm x 12mm
10 of Penny 5mm x 15mm
10 of Penny 6mm x 18mm
10 of Penny 8mm x 24mm
10 of Penny 10mm x 30mm
10 of Penny 13mm x 36.5mm
10 of Plain 15mm x 43.5mm
10 of Penny 17mm x 50mm
10 of Crinkle 4mm x 8mm
10 of Crinkle 5mm x 9.5mm
10 of Crinkle 6mm x 10.5mm
10 of Crinkle 8mm x 15mm
10 of Crinkle 10mm x 17.5mm
10 of Crinkle 12mm x 20mm
10 of Crinkle 15mm x 23.5mm
10 of Crinkle 16mm x 25.5mm
Delivery and Returns
We want you to be happy with your purchase. If you're not, just return the products to our warehouse. Unless faulty, we'd like this to be within 30 days of purchase. Exceptions apply to certain products.
WORLD'S END MOTORCYCLES DISTRIBUTION
Supplying quality after market motorcycle parts direct to the trade