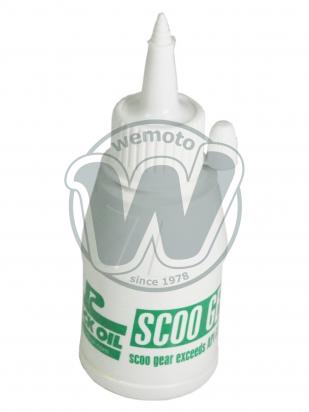 Part Description
Rock Oil Scoo-Gear (Scooter Bevel Box) 110ml
Delivery and Returns
We want you to be happy with your purchase. If you're not, just return the products to our warehouse. Unless faulty, we'd like this to be within 30 days of purchase. Exceptions apply to certain products.
Oil Grades
The thickness / viscosity of the oil is measured in an SAE rating. The lower the number, the easier it flows at low temperature. For extreme cold conditions or very short journeys, a thin light oil of SAE10 performs well. For hot running conditions, a fairly heavy oil of SAE40 or 50 is suitable. Modern oils are usually multigrade. An oil with an SAE rating of 10-40 flow like an SAE10, at very low temperature and retains its viscosity at extremely high temperatures, acting as an SAE40. Multigrade oils contain additives and detergent to help gather dirt particles until they get to the filter. These are not suitable for some classic and vintage machines and their owners use straight oils (Single grade SAE). These oils cannot give the high standard of protection and performance of a modern multigrade in varying temperatures.
Oil Classification
Always us an oil equal or above the classification of oil recommended for your motorcycle. The Japanese Automotive Standards Organization, JASO, use JASO-MA for 4-stroke petrol motorcycle engines and JASO-FC for 2-stroke petrol engines (classification system designed to address oil-requirement issues not addressed by the leading classification agency the American Petroleum Institute - API). API classification for motorcycle oils is, for example, SE for 70'' air-cooled fours and SL for a 2005 water-cooled Multi, thus SG's better than SF, which is better than SE etc.
WORLD'S END MOTORCYCLES DISTRIBUTION
Supplying quality after market motorcycle parts direct to the trade