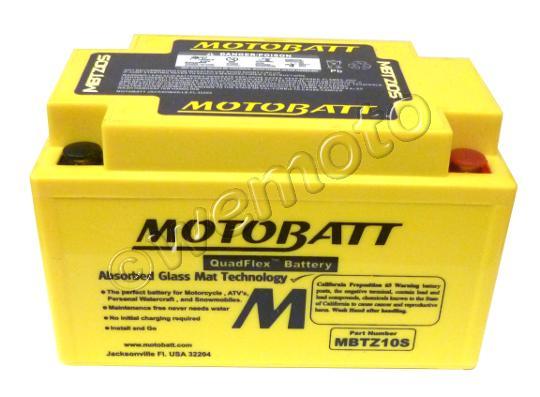 Part Description
Suzuki AN 400 L1 Burgman 11 Battery Motobatt Sealed High Torque
AH 8.6 L 151mm x W 87mm x H 95mm
MotoBatt is an AGM battery, a type of Sealed Lead Acid (SLA) battery.
This is a high torque battery. The cold cranking amps exceeds that of original equipment.
Each Quadflex Battery has 4 terminals (2+ and 2-) and, when necessary, includes spacers for flexibility and fitting.
No electrolyte or harsh acids to deal with, MotoBatt Batteries require no maintenance. MotoBatt batteries do not even require charging before being put on the bike, they are ready to install directly out of the box.
Delivery and Returns
We want you to be happy with your purchase. If you're not, just return the products to our warehouse. Unless faulty, we'd like this to be within 30 days of purchase. Exceptions apply to certain products.
General Care
Motorcycle batteries like being used. They do not like being neglected, unused or uncharged.
If left for any length of time without being charged, even if they are not connected, all lead-acid batteries will go through a natural process of self-discharging. Motorcycle batteries, because of their composition, tend to be more prone to this than other lead-acid batteries. If the battery has reached the stage of being deeply discharged it is often impossible to recover, even if the battery itself is relatively new. If the battery is connected to the bike and the bike has an alarm or immobiliser fitted the time it takes a battery to reach a deeply discharged state can be short, often a matter of days.
Regular charging is the only way to ensure a long life from your battery and work against the natural process of self-discharge. Most intelligent motorcycle battery chargers come with leads which can be permanently fixed to your battery with the battery connector neatly hidden away in the bike. Charging is then an easy matter of plugging the connector into the charger.
6V and 12V Lead Acid Battery Chargers
Motorcycle and Scooter Battery Chargers
A lead acid battery will naturally self-discharge at a rate of 0.2-1.0% per day - and that's before the constant drain of an alarm, immobiliser or other accessory.
For the longest effective working life, a battery should be kept at full or near full charge capacity. This can be obtained with the use of an intelligent charger.
Automatic (Intelligent or 'Trickle') Chargers
A trickle charger (or smart charger) is so called because once the battery is detected as fully charged, it will reduce the power (to a 'trickle' ) to recover a battery's self-discharge without allowing it to overcharge.
How Motorcycle Chargers Work
Conventional lead-acid batteries are constructed of a number of lead plates submerged in the electrolyte. Motorcycle and scooter batteries are capable of a large power-to-weight ratio compared to other types of battery, by utilizing a large number of thin lead plates, maximising the surface area for electrolysis. The downside is that these plates are fragile and easily damaged by deep discharge.

The government has added sulphuric acid to its list of regulated substances in The Poisons Act 1972. Due to this latest amendment, as of July 1st, 2018, members of the public must have an Explosives Precursors and Poisons (EPP) licence to buy sulphuric acid above 15% concentration.
How are sales of batteries and battery acid affected?
For members of the public who do not hold a valid EPP licence, the legislation will affect the sale of batteries in the following ways;
Lithium-ion, AGM & GEL batteries
Acid-free and factory-activated batteries will be unaffected by the change and are available to purchase as normal via our online shop or in store.
Maintenance-free (un-activated) batteries – previously supplied with a separate acid pack for home-activation.
Under the new law, we are no longer able to supply these batteries as they come. Instead, prior to shipping, they will be filled, charged and tested by our trained staff on site. Although we will endeavour to keep a small stock of our most popular batteries ready for dispatch, in most cases Next Day Delivery will no longer be available on these items due to charging and testing times.
... Read more » Buying motorcycle batteries as of July 1st, 2018
WORLD'S END MOTORCYCLES DISTRIBUTION
Supplying quality after market motorcycle parts direct to the trade