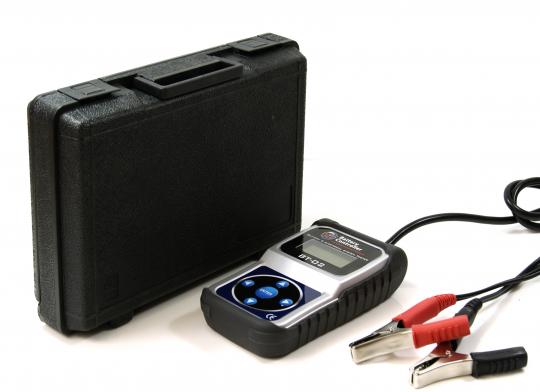 Part Description
BC Professional Battery And Charging System Tester / Analyzer
The professional tester suitable for all 6/12V batteries (wet, gel, MF, AGM, VRLA)
from 40 to 2000 CCA (SAE), as well as for 12/24V cranking/charging electrical systems
Easy to use, it provides accurate and reliable results
Fast testing procedure, in few seconds the LCD display shows the test results
as well as a clear recommended action:
A. Good / Pass (battery in good conditions)
B. Good / Recharge
C. Recharge / Retest
D. Bad / Replace
E. Bad Cell / Replace
The device is also suitable to analyse deeply discharged batteries (Voltmeter range: 1.5V to 30V)
In order to minimise the battery drain during the execution of the test,
it's possible to select all the main industry international standards for batteries (SAE, DIN, EN, IEC or JIS)
Patented single load, dynamic resistance technology,
Protective rubber shell, high shock resistance
Practical ABS case for storing and transporting the unit
BT02 - Battery Charger and Alternator Tester
BC chargers are 100% made in Italy by battery maintenance specialist BC. With the use of highly experienced and creative technicians, BC aim to provide the best possible solutions for recovering, charging, desulfating, maintaining and analysing lead-acid batteries.
The BT02 is designed specifically with the workshop in mind and uses the latest technology to provide optimum performance for the user. This high quality charger features:
An easy to use professional tester that is suitable for all 6/12V batteries from 40 to 2000 CCA (SAE), as well as for 12/24V cranking/charging electrical systems
A fast testing system that provides reliable results in a just a few seconds via an LCD display with the recommended action to take
Suitable to analyse deeply discharged batteries with a voltmeter range of 1.5V to 30V
Possibility to select all the main industry international standards for batteries: SAE, DIN, EN, IEC or JIS
Patented single load dynamic resistance technology which minimizes the battery drain during the duration of the test
A protective rubber shell with high shock resistance and an ABS case for storing and transporting the controller
All BC battery controller products come with a full three year warranty.
Technical Information
Voltage
6/12 Volt
Standards
SAE, EN, JIS, CA, DIN, IEC
Battery Types
6/12 V Lead Acid
(Wet, Gel, MF, VRLA, AGM, Ca/Ca...)
Voltmeter range
1.5 - 30 Volt
Battery Capacity Range
40 - 2000 CCA (SAE)
40 - 2100 CCA (EN)
30 - 1500 CCA (IEC)
25 - 1300 CCA (DIN)
Languages
English, Italian, French, German,
Spanish, Portuguese, Japanese
Operating Temperature
0°C - 50°C
Tolerance
CCA ±5%, Voltage± 0.05%
Batteries Included
6 x 1.5V - LR6 - AA
Size and Weight
190x90x115 mm, 420 gr
Cable Length
1.75m
Protections
Anti-shock shell
High resistants to impacts
All BC chargers are designed, manufactured and tested in Italy to conform to EU regulations on safety and electro-magnetic compatability.
Delivery and Returns
We want you to be happy with your purchase. If you're not, just return the products to our warehouse. Unless faulty, we'd like this to be within 30 days of purchase. Exceptions apply to certain products.
WORLD'S END MOTORCYCLES DISTRIBUTION
Supplying quality after market motorcycle parts direct to the trade