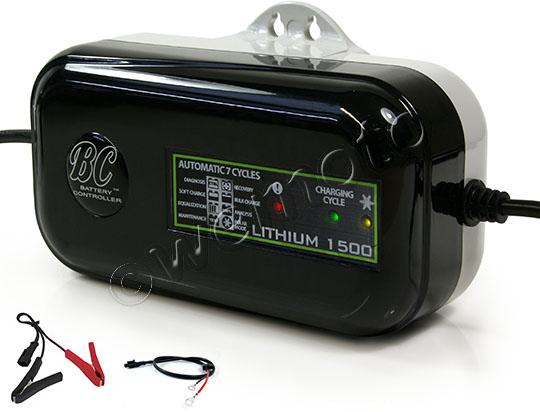 Part Description
12 v Lithium Battery Charger 1500 D Series By BC - EU plug
With EU Plug. BC LITHIUM Series is the new generation of BC smart chargers,
specifically for LiFePO4 battery maintenance.
developed to ensure lithium-iron-phosphate batteries give high performance
and a longer life in total safety.
BC LITHIUM 1500 is a battery charger and maintainer with a maximum charging current of 1.5 Amp,
ideal to recover, recharge and maintain the 12V LiFePO4 batteries installed on
motorcycles, scooters and ATVs, from 1 to 100 Ah.
The battery charger is designed to stay permanently connected to the battery,
with no risk and no need to disconnect the battery from the vehicle,
keeping it fully charged during long periods of inactivity (even months).
The 7-steps charging algorithm, developed expressly for lithium batteries,
allows the recovery of deeply discharged batteries, a rapid and efficient charging of the battery,
a charge balancing between the battery cells and proper maintenance of optimum battery state of charge even for long periods.
The battery is analysed at the beginning and the end of the charging process.
Safety is guaranteed during every charging step: in case of low temperatures, detected by an integrated sensor,
POLAR Mode is automatically activated, allowing a safe battery charging in critical ambient temperatures.
A couple of LEDs indicate the charging cycle executed, as well as any functioning error in real time.
A third LED turns on when the POLAR Mode is active.
BC Lithium 1500 does not produce sparks and it is protected against short circuit,
reverse polarity, overcharging and overheating.
The package includes a waterproof battery cable with eyelets (code STD2V),
which can be left permanently installed on the vehicle,
and a battery cable with insulated clamps (code 30AMPPZ).
A universal 12/18 mm adaptor (code ACC612V - optional)
is available to recharge the battery from the cigarette lighter.
The warranty is extended to 3 years.
Delivery and Returns
We want you to be happy with your purchase. If you're not, just return the products to our warehouse. Unless faulty, we'd like this to be within 30 days of purchase. Exceptions apply to certain products.
WORLD'S END MOTORCYCLES DISTRIBUTION
Supplying quality after market motorcycle parts direct to the trade