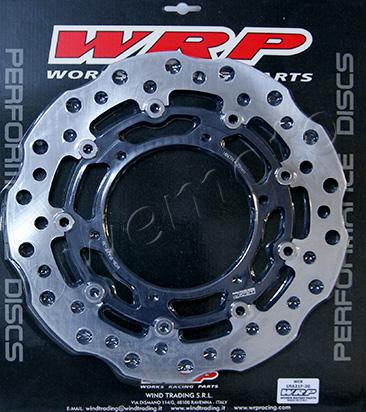 Part Description
WRP Brake Disc Wavy WCB-1RA21F-30

WRP are performance specialists with a range of braking and racing products tested on the track to bring premium performance to the motorcycle enthusiast.
WRP Front Brake Disc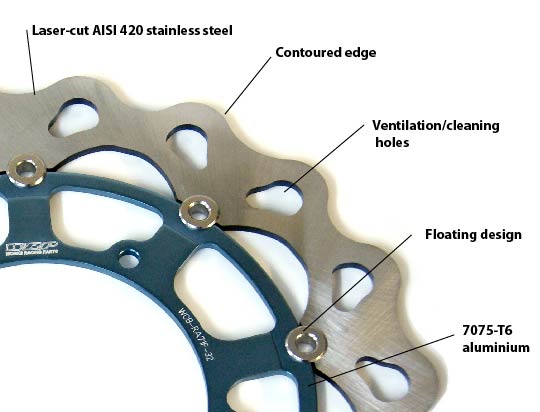 What gives WRP discs their premium stopping power?
Laser Cut AISI 420 Stainless Steel
Laser cut for accuracy, the AISI 420 grade stainless steel is a heat treated, high carbon steel for ultimate strength and corrosion resistance. The steel undergoes a lap-grinding process to ensure a perfect and parallel surface for good pad/disc contact and ultimate stopping power.
Contoured Edge
The contours of the WRP wavy discs don't just look good - they provide superior heat dissipation to prevent brake fade
Ventilation/Cleaning Holes
The experienced engineers behind WRP discs incorporate ventilation/cleaning holes into the disc design to both reduce weight and constantly clean water away from the surface of the pads.
Floating design
The 'controlled float' of a WRP floating disc allows for a small amount of lateral movement in the friction surface, allowing for better disc centering in the caliper and therefore, better braking grip. Metal expands under high temperatures such as under heavy braking - in a solid disc this would cause warping, but in a two-piece floating disc the steel has the freedom to expand leading to preventing disc warping
7075-T6 aluminium hub
WRP use a sturdy, corrosion resistant heat treated aluminium, saving weight compared to other materials or solid discs.
Safety!
Always ensure brake discs are fitted by a qualified mechanic and for maximum performance and life always fit new pads at the same time you fit a new brake disc. Front and rear brake discs do not need to be replaced at the same time, but where the front is twin caliper both front discs must be replaced together.
Delivery and Returns
We want you to be happy with your purchase. If you're not, just return the products to our warehouse. Unless faulty, we'd like this to be within 30 days of purchase. Exceptions apply to certain products.
Motorcycle Disc brakes : what they are, how they work and how to fit them...
The disc brake is a wheel brake which works by stopping the motorcycle wheel from rotating using friction. The friction is caused by pushing the brake pads against the brake discs hydraulically, using a set of calipers. The brake disc is connected to the wheel and/or the axle and this friction causes the wheel to slow down or stop by converting the motion (or kinetic energy) to heat. Disc brakes first appeared in 1962 but have evolved and become more sophisticated since then.
There are several different types of disc brakes available now: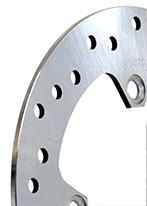 Solid Disc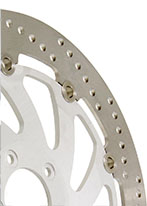 Floating Disc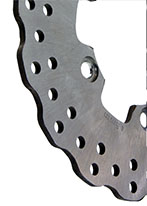 Solid Wavy Disc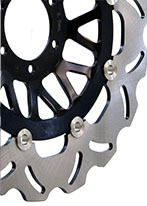 Floating Wavy Disc
Drilled or Slotted Discs:
These are disc brakes with holes or slots drilled into them. This serves several purposes, the holes let the rainwater through them more easily so that the brake discs don't get so slippery when it's wet. They also cool more quickly helping the efficiency of the brakes by preventing overheating. Slots machined in the disc aid the removal of dust and oil residue and help to deglaze the brake discs so that they are less slippery.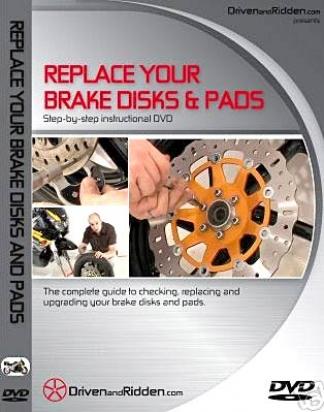 REPLACE YOUR DISKS AND PADS
DONT JUST READ ABOUT HOW TO DO IT,
WATCH IT!
The complete guide to checking, replacing and upgrading your brake disks and pads. Professionally filmed in our studio, Nick Hine shows you exactly how to do each job - with clear, close-up shots, tips, advice and techniques that enable you to get a professional finish - even if you have no experience.
All DVDs start and end with the bike on the ground, They don't miss out any steps and always use standard home garage tools where possible and show you how to make your own special tools where necessary. We explain why you need to do each task and try to give you a good understanding of the principles behind each job.
THIS COMPREHENSIVE 41 MINUTE DVD SHOWS YOU HOW TO
Accurately check your disks and pads for wear
Safely jack and support your bike
Choose the correct new brake components
Remove the wheels, calipers, disks and pads correctly
Fit new disks correctly
Clean and un-seize stuck calipers
Maintain the pins on sliding calipers
Fit new pads
Rebuild your bike
Bed your brakes in safely
WORLD'S END MOTORCYCLES DISTRIBUTION
Supplying quality after market motorcycle parts direct to the trade