Devil Products
Select your model using the lists below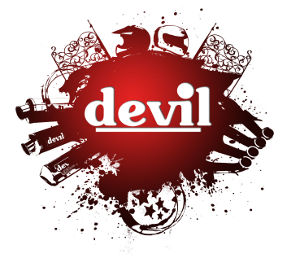 Fourty-four years of winning endurance racing experience stand behind the DEVIL exhaust range and with 2001 ISO certification, it shows. Each exhaust is designed and manufactured in France, and DEVIL's engineers know exactly what you need with a performance exhaust: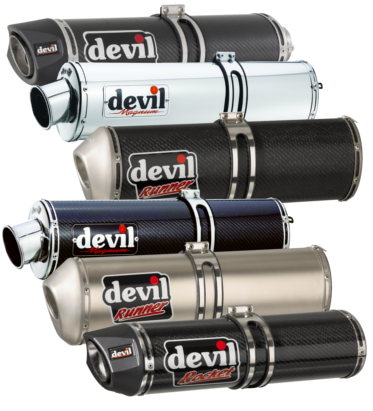 Many models available in either road-use with removable baffle, or racing-only with even more weight saving features.
Choice of reinforced carbon, steel or titanium across many models.
Range of DEVIL silencers of different sizes and styles, whether for classic or ultramodern look.
Weight saving of 30-50% compared to OEM.
Increase in horsepower: power you can feel at the throttle, not just a few extra at top speeds.
Prescision made to increase performance at stock settings: no need to mod the bike, though you'll get even more out of your DEVIL if you do.
Spares available across the range.
DEVIL's signature deep tone.
DEVIL's full racing systems are available in titanium for the maximum weight saving, with choice of titanium or carbon silencer. The 6 days enduro range is available in stainless steel only for maximum stability.
No need to replace your air filter or modify your jet settings for a DEVIL exhaust system or silencer: even at stock settings you'll feel the difference. If you want to see even more from your DEVIL, tuning your bike for performance will push it to the maximum. On a stock bike DEVIL runs well. On a fully tuned bike, it flies
A performance exhaust isn't complete unless it sounds the part and DEVIL doesn't disappoint; a DEVIL without a baffle has a delightful deep rumbling roar. Homologated DEVIL exhausts and silencers come with a removable baffle and a range of different baffles are available if you want to change your sound but restrict the volume.
DEVIL isn't just for the track: DEVIL run on the road with a range of homologated exhausts and silencers which come with a removable baffle. All road-use, e-marked, DEVIL exhausts come with one years manufacturer's warranty.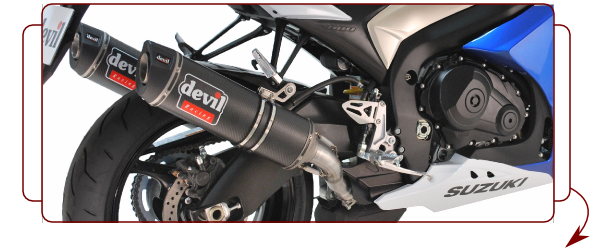 CAN'T FIND WHAT YOU'RE LOOKING FOR?

—
Please use the form below to submit your enquiry taking care to enter your correct e-mail address. If you are enquiring about an ongoing order please quote the invoice or order number in the subject line.
OUR RANGE OF OEM AND PATTERN PART BRANDS

—
WORLD'S END MOTORCYCLES DISTRIBUTION
Supplying quality after market motorcycle parts direct to the trade